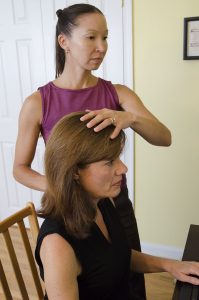 KC Chun is certified by the American Society for Alexander Teachers (AmSAT, 2004), completing a rigorous three-year program comprised of 1600 hours of instruction and practice.  She trained under master teachers Joan and Alex Murray while simultaneously pursuing her M.F.A. in Dance from the University of Illinois at Urbana-Champaign under Luc Vanier and Rebecca Nettl-Fiol.
Since completion of her teacher certification and MFA, she continues her supplemental studies into the fields of Movement Education, Developmental Movement, Kinesiology, and Somatics. 
She has taught Dance Science and Somatics, Modern dance technique, Alexander Technique, and Composition on the faculties of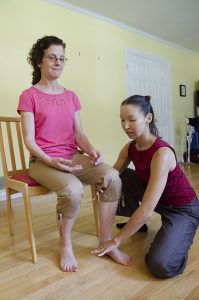 the Pig Iron School/UArts, Drexel University, Temple University, and Bryn Mawr College, and has been commissioned nine times to create new work for students at Drexel University, West Chester University, and Trinity College. Her teaching practice also includes teaching creative movement, and gymnastics for daycare centers, competitive gyms, high school programs for students with learning disabilities, the Dance for Parkinson's Disease program, and the Philadelphia Cancer Support Community. She is the artistic director of the project-based company freshblood, whose choreography has been presented locally and in New York and Boulder.
Photo credit: Jano Cohen